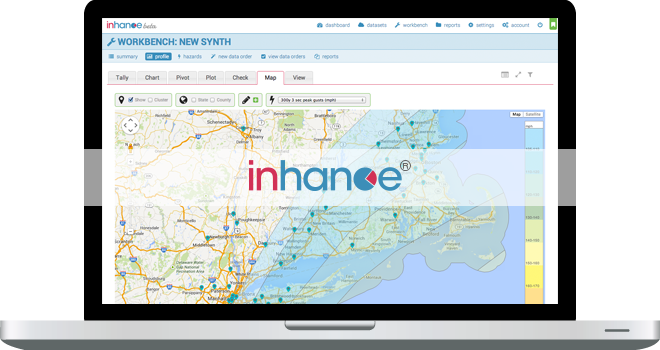 PROJECT DESCRIPTION
A seamless toolkit for understanding and improving exposure data

The Inhance tools work seamlessly together to provide users with a versatile, innovative workbench for solving exposure data problems.
NEW INSIGHT INTO YOUR EXPOSURES
The Inhance platform is a simple–to–use suite of tools developed to help (re)insurers, managing general agents and brokers visualise their property exposures in terms of completeness, accuracy and appropriateness.
Instantly identify and isolate incomplete or poor quality data for locations that are in high hazard areas and are of material value. Access our Data Market for cross-validation and enhancement of your exposure data from independent data sources.
DETAILS
The integrated Inhance Data Market provides pay-per-use access to third-party exposure datasets from a range of market leading providers.
An unrivalled library of global hazard data is at your fingertips with our unique pay-per-use access to flood, quake, wind and many other perils and non-catastrophe datasets.
The Clickode team has developed all the ETL software needed to bring data in & out inhance platform. To do so we have used Pentaho BI ETL component named Pentaho Data Integration. We have worked together with Imagecat team to integrate this component to the framework and to handle all data format available on the re-insurance market.
2013-12
Imagecat