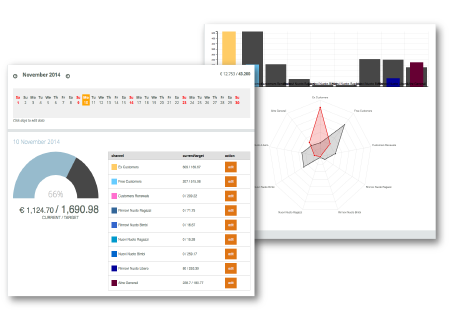 PROJECT DESCRIPTION
Rubiz is a cloud software for budget planning and business strategy management.
It was born for fitness, beauty and wellness centers, as well as fitness professionals like Personal Trainers the same concept can be extended to many other markets such as health-care, dental, food & beverage, glasses, etc.
Rubiz helps business managers to create new propositional attitude on their managers and to enforce objective oriented approach thus achieving the following objectives:
Sales volume increase
A clear and effective business development method
Historical data based forecasts
DETAILS
Rubiz is a web application dashboard, created to help managers on
Acquisition channel planning
Operative path definition
Activity monitoring
Data analytics
With Rubiz you can follow and monitor all the sales process. A tipical workflow in Rubiz would be:
Define your target budget for the month,

Define the sources of incomes that will "create" your budget (acquisition channels)

Check when the sum of the contributions of the channels equals (or it's near to) your monthly target.

From now on, for each working day, Rubiz calculates the amount of budget you have to earn, showing you the progresses as you incomes get in.

If your incomes are lower or exceed your daily target, Rubiz recalculates the budgets for following days, spreading the missing or exceeding amount among the days left to the end of the month.
DETAILS
The Clickode Team has created Rubiz from scratch using Open Source and Cloud Ready state-of-the-art components. Rubiz is easily customizable and can be integrated with well known CRM and ERP software such as SuiteCRM/SugarCRM or Odoo.